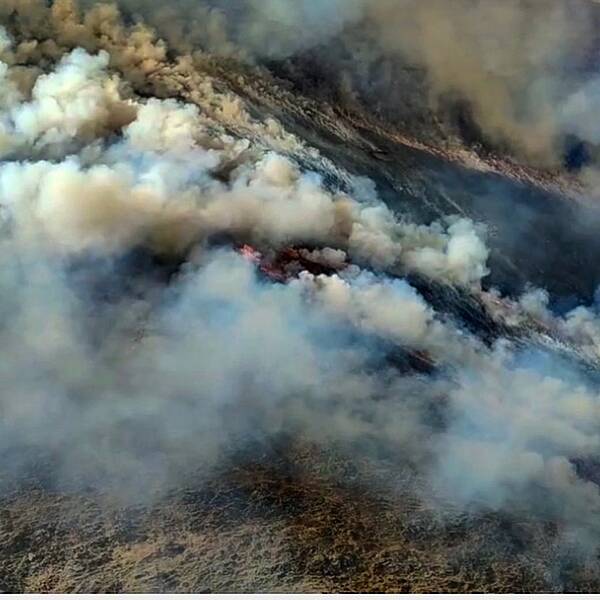 Anne Lucey
UPDATED: 8:15am – 25/04/2021
Firefighters and authorities in Co Kerry continue to battle a huge fire spread across thousands of acres in Killarney National Park.
Fire crews, national park personnel and a lone army helicopter tried throughout Saturday to contain the blaze on the southern and western edges of the park and the work has continued into Sunday morning.
The fire broke out late on Friday night and has been fanned by a strong breeze.
There is concern the blaze will threaten some of the most sensitive landscapes in western Europe and the oldest natural oak woods in Ireland.
The Irish Air Corps said more than 50,000 litres of water had been poured on the fire in an attempt to the stem the spread.
On Saturday afternoon, astonished onlookers on the N71 stopped to watch as clouds of white smoke billowed from the peak of the Eagle's Nest mountain.
Locals say it is the worst fire in the park since the 1980s.
Mick Power from Coillte, the State's forestry agency, told Newstalk the situation was "serious" and it remained unclear if the fire could be put out on Saturday night.
1. A large fire & very serious is burning in Killarney National Park. @npwsBioData staff & the Fire Brigade are currently on site dealing with the incident. We are asking members of the public to avoid areas of the Park listed below until further notice: pic.twitter.com/3DdDiL8wZj

— Department of Housing, Local Government & Heritage (@DeptHousingIRL) April 24, 2021
Mayor of Kerry, Councillor Patrick Connor-Scarteen, said the flames could be seen for miles last night after dark.
"It's now kind of gone up into the uplands, in the Purple Mountain area, kind of going towards the Gap of Dunloe.
"I just hope that it can be contained and quenched and that it won't go near any domestic dwellings or any farm dwellings and that no more wildlife or flora or fauna gets destroyed," he said.
Meanwhile, Coillte has said it is also concerned a gorse fire in Pontoon, Co Mayo may jump a firebreak to reach woodland nearby.
And in the North, 70 firefighters and ten fire engines have been battling a major fire in the Mourne Mountains for a second day.
Huge fires were contained north of Killarney overnight on Friday, in the Currow area and north of Castleisland, with crews from Tralee and Abbeyfeale in Co Limerick joining forces to protect homes and minimize damage to forestry.
Water tankers were called in from Killarney to fight the huge blaze between Castleisland and Brosna on the Limerick border.
A "condition red" fire danger notice remains in place in the Republic.
The public is being asked not to light fires or set up barbecues in forest areas – or other places where dry vegetation might easily catch.