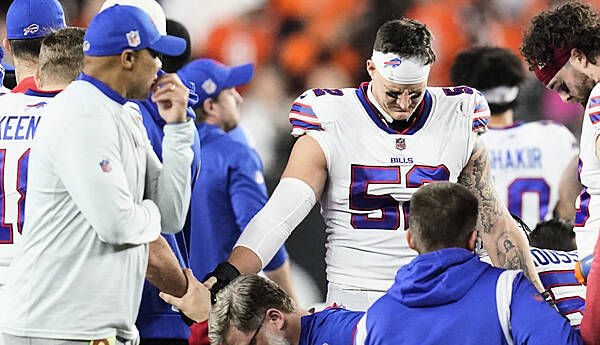 By PA Sport Staff
Damar Hamlin remains in critical condition in hospital after the Buffalo Bills safety suffered a cardiac arrest during Monday's NFL game against the Cincinnati Bengals.
Hamlin had CPR on the field after colliding with Bengals wide receiver Tee Higgins before being taken to the University of Cincinnati Medical Center, where he spent the night in an intensive care unit.
"Damar Hamlin spent last night in the intensive care unit and remains there today in critical condition at the University of Cincinnati Medical Center," the Bills posted on their official Twitter account.
#NewProfilePic pic.twitter.com/jQdQUD4RjY

— Buffalo Bills (@BuffaloBills) January 3, 2023
The Bills said earlier on Tuesday: "Damar Hamlin suffered a cardiac arrest following a hit in our game versus the Bengals.
"His heartbeat was restored on the field and he was transferred to the UC Medical Center for further testing and treatment. He is currently sedated and listed in critical condition."
Bills players and staff were seen praying together on the field as an ambulance took 24-year-old Hamlin to hospital.
Hamlin's team-mates were given a standing ovation by fans and NFL commissioner Roger Goodell soon announced that the game had been postponed following the incident.
An NFL update confirmed the fixture will not be finished this week but added the Bills' clash against New England Patriots on Sunday is still scheduled to go ahead.
— NFL (@NFL) January 3, 2023
A statement said: "After speaking with both teams and NFLPA (NFL Players Association) leadership, NFL Commissioner Roger Goodell informed the clubs today that the Bills-Bengals game will not be resumed this week.
"The NFL has made no decision regarding the possible resumption of the game at a later date. The league has not made any changes to the week 18 regular season schedule."
There was an outpouring of emotion across the United States in response to the incident, with fans gathering outside the University of Cincinnati Medical Center to hold candlelit vigils for Hamlin.
His family said they were "deeply moved" by the displays of affection.
"On behalf of our family, we want to express our sincere gratitude for the love and support shown to Damar during this challenging time. We are deeply moved by the prayers, kind words and donations from fans around the country," Hamlin's family said in a statement.
"We also want to acknowledge the dedicated first responders and healthcare professionals at the University of Cincinnati Medical Center who have provided exceptional care to Damar. We feel so blessed to be part of the Buffalo Bills organisation and to have their support. We also want to thank coach (Zac) Taylor and the Bengals for everything they've done.
"Your generosity and compassion mean the world to us. Please keep Damar in your prayers. We will release updates as soon as we have them."
The incident sparked an astonishing surge in support for a charitable campaign set up by Hamlin two years ago to purchase toys for children in need.
— NFL (@NFL) January 3, 2023
Donations to the Chasing M's Foundation Community Toy Drive had skyrocketed past 4million US Dollars (£3.4million) as of late Tuesday afternoon in Britain and showed no sign of stopping.
The Pennsylvania native's initial description of the drive – which Hamlin wrote in 2020 – reads: "As I embark on my journey to the NFL, I will never forget where I come from and I am committed to using my platform to positively impact the community that raised me.
"I created The Chasing M's Foundation as a vehicle that will allow me to deliver that impact."
Messages of support for Hamlin poured in following the incident, which came in the penultimate week of the NFL's regular season.
A statement from Bengals owner, Mike Brown. pic.twitter.com/FfUCrgSnWQ

— Cincinnati Bengals (@Bengals) January 3, 2023
Bengals owner Mike Brown said in a statement: "First and foremost, the Bengals continue to send thoughts and prayers to Damar Hamlin and his family. Our hearts are with everyone in this unprecedented time – what we can do is support one another.
"Last night was supposed to be a great night for the NFL and a great showcase for our home town. Instead, the human side of our sport became paramount…and in that moment, humanity and love rose to the forefront.
"As medical personnel undertook extraordinary measures, both teams demonstrated respect and compassion while fans in the stadium and people around the country bolstered the support for Damar and love for each other.
"The Bengals are thankful for the love and compassion shown by all. Praying for Damar."
My prayers and thoughts go out to @HamlinIsland the Hamlin Family. I'm praying that you pull through bro. Love 🙏🏾💙

— Tee Higgins⁵ (@teehiggins5) January 3, 2023
Higgins offered his "prayers and thoughts" to Hamlin and his family and added on Twitter: "I'm praying that you pull through bro. Love."
Bills quarter-back Josh Allen and Arizona Cardinals' JJ Watt, a three-time NFL defensive player of the year, were also among those to send their support to Hamlin.
Buffalo are the only franchise to play in New York state and Eric Adams, the Mayor of New York City, led the prayers for the player.
Adams said: "I'm asking all New Yorkers to join me in praying for Damar Hamlin, his family, his team-mates, and our brothers and sisters in Buffalo."
Basketball star LeBron James also offered has prayers to Hamlin following the Los Angeles Lakers' victory over the Charlotte Hornets on Monday night, saying: "I wish nothing but the best for that kid, for the city of Buffalo, the franchise of the Bills, the rest of the NFL and the Bengals who were playing in that game."