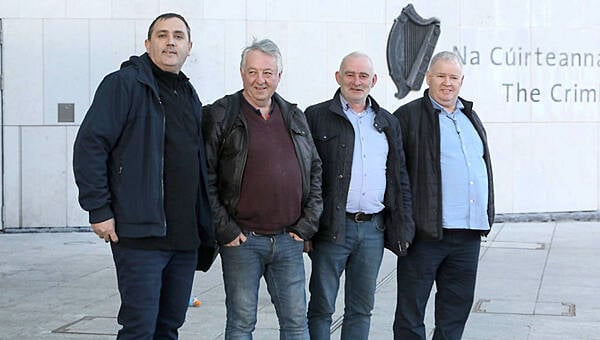 Declan Brennan and Sonya McLean
A security guard has told the Roscommon eviction trial that groups of armed men smashed their way into the house and attacked him and his colleagues.
The property was repossessed on December 11th, 2018, and several security men were left to guard the farm house and lands.
It is the State's case that five days later, at around 5am on December 16th, 2018, a group of approximately 30 armed men, some wearing balaclavas, arrived at the rural property and attacked four of the security guards present.
Patrick Sweeney (44), of High Cairn, Ramelton, Co Donegal, Martin O'Toole (58), of Stripe, Irishtown, Claremorris, Co Mayo, Paul Beirne (56), of Croghan, Boyle, Co Roscommon, and David Lawlor (43), of Bailis Downs, Navan, Co Meath, have pleaded not guilty to 17 charges each at Dublin Circuit Criminal Court.
Each is separately charged with false imprisonment of and assault causing harm to four security personnel at Falsk, Strokestown on December 16th, 2018. Each is also charged with aggravated burglary, as well as four charges of arson in relation to a car and three vans which were allegedly set alight.
The four are also each charged with criminal damage to a door of a house, violent disorder, robbery of a wristwatch from John Graham and, finally, causing unnecessary suffering to an animal by causing or permitting an animal to be struck on the head.
Mr Graham said he was dozing when he heard a loud bang and then heard a window getting knocked. He said he heard a colleague shouting "they are here, they are here" and he told him to get out.
"I stood up and then heard the front door being rammed in. I heard glass being broke and males shouting. They sounded aggressive," he told the trial
"Me and my colleague made our way to the front door. I saw a stick like a baseball bat being smashed through the glass panel of the front door and the door being forced in.
"The door was forced open. I was hit with the batons – there were sticks, batons, crow bars. We tried to run back into the living room, but we were overpowered," he said.
Weapons
He said about four or five men had come in the front door, and that he was struck on the head, shoulder and arms by more than one person.
He said he and his colleague were unarmed and were trying to defend themselves.
"My only alternative was to try and get out the back door. I realised…that there were more men coming through the back door with more weapons, so we had no option but to go into the kitchen," he said.
He said there were men in the kitchen and they were armed with sticks, batons and one had a spray can of WD40. He said one man had a chainsaw which was turned on and another man had a meat cleaver.
The witness will continue his evidence on Tuesday morning before Judge Martina Baxter and a jury.
In other evidence, an official from KBC Bank, the bank which repossessed the property at Tulsk in 2018, told lawyers for Mr O'Toole that he would not accept the High Court order to execute the repossession was invalid.
Danny Noone told the jury that he was an authorised officer of KBC Bank and that in 2009 the bank began legal proceedings against Michael McGann, who was the holder of a mortgage for the property at Falsk.
He said that a High Court order for possession was granted in October 2012. He added that between 2009 and 2012, "we would have done our best to engage with the borrowers to see if there was a resolution possible".
He said that after the order was granted the bank continued to engage with the borrower. He said there was a lot of engagement with Mr McGann and that is why it took so long for the possession order to be executed.
He told the jury that "the last thing anybody wants to do is go ahead with a forced repossession".
He said to execute a possession order a separate execution order needs to be issued by the court and that this expires after 12 months.
He agreed that two execution orders were issued and lapsed before the third one issued in 2018 was then used as the basis for the eviction in December 2018.
He told the court that the security for the KBC mortgage included around 30 acres of land but that public records indicated that Mr McGann owned a total of around 170 acres in addition to this land, and "perhaps one or two other residential properties".
He said that during the course of the execution of the order any agents employed or named as bailiffs would be working for the county registrar for Roscommon.
Vulnerable person
Blaise O'Carroll SC, defending Mr O'Toole, put it to the witness that at the time of executing the order KBC Bank were aware that Mr McGann's brother, David McGann, was in residence at the property and was a vulnerable person.
"We had no evidence whatsoever and we did have some hearsay commentary that we couldn't rely on," he said. He said he believed that the law was complied with in relation to David McGann and that orders were issued against him.
He said the bank had no knowledge that Geraldine McGann was an occupant of the property.
"David McGann was served, he was notified, there was no evidence whatsoever connecting Geraldine McGann to that property," he said.
He agreed that when the order to execute repossession lapsed the plaintiff – in this case, KBC Bank – had to apply for a renewal of a lapsed order and to swear an affidavit of non-compliance on the part of the defendant in the civil case.
Mr O'Carroll said that when the application for the third execution order was granted, there was no affidavit of non-compliance and asked the witness was he aware of that.
Mr Noone said: "I don't know off the top of my head, I would expect it would be filed. I don't know."
Mr O'Carroll replied "it wasn't filed, the order you were operating under on December 11th is invalid", which Mr Noone said he would not accept.